Co-op, work placement, and internship are three terms that are often used interchangeably. While each of these opportunities aim to give students the chance to apply what they've learned in the classroom to real-world work experiences, there are subtle differences among them.
One thing is for sure, employers are looking for that real-world work experience and ability to hit the ground running right out of school. Finding a program that offers a co-op, work placement, or internship option can provide a valuable opportunity to students to develop their skills and even make money while in school.
This blog post, the first in our series on work-integrated learning, explores opportunities for international students to gain invaluable work experience and grow their resumes while studying abroad in Australia, Canada, the United States, and the United Kingdom.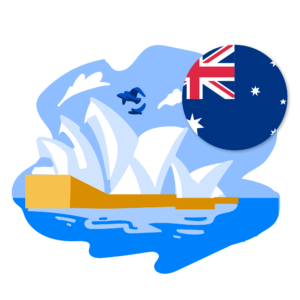 Australia
In recent years, Australia has come to embrace work-integrated learning. It offers students the opportunity to take their knowledge to the next level by participating in work placements or internships.
Internships
Many students studying in Australia opt to take part in an internship related to their field of study. For some courses, it's even compulsory. Where an internship is a requirement, students will receive academic credit. Internships vary in length and, unlike other study abroad destinations, these opportunities are unpaid.
Australian institutions to consider: Australian National University, James Cook University, and Murdoch University.

Canada
The three most common types of work-integrated learning opportunities in Canada are co-operative education, internships, and work-integrated learning experiences. It is important to note that international students looking to participate in one of these programs will need to apply for a co-op or intern work permit.
Co-operative Education
Co-operative education, more commonly known as "co-op," combines classroom learning with practical, full-time work experience. A co-op program might include alternating academic and paid work terms or multiple, consecutive work terms. The specific number of work terms a student must complete will depend on the program. For programs two years or longer, a student must spend the equivalent of 30% of the time they spent in the classroom in work terms. For programs two years and under, it's 25%.
Internships
An internship, which can be paid or unpaid, is supervised full- or part-time work experience or a practice placement related to a student's area of study. After completing an internship, students will receive academic credit. A student may complete their internship part way through a program or after finishing their coursework and before graduating. While internships can vary in length, they are usually between 12 and 16 months.
Work Experience
Work experience typically includes one or two full-time work terms in an academic program. It gives students the opportunity to gain real-world experience in a role that aligns with their field of study and future aspirations.
Canadian institutions to consider: Centennial College, Seneca College, and the University of Waterloo.

United Kingdom
Institutions in the United Kingdom offer students the opportunity to participate in internships and work placements to gain valuable work experience. While there are some similarities between the two, they are actually very different.
Internships
An internship can range from a week to 12 months and is usually completed over summer vacation. Students don't typically receive academic credit for completing an internship, although it may be recognized by professional training organizations. By law, students are paid at least the National Minimum Wage. As it's not unusual for organizations to bring on an intern full-time, an internship could be the first step in an exciting new career for a student.
Work Placements
Work placements are a requirement for some courses and earn students academic credit. Students typically complete a work placement during term time.
Short-term work placements range in length. Some are completed over the summer holidays and are usually between one and three months, while others are one day per week over a longer duration.
For some courses, such as science and engineering degrees, students must participate in a "year-in-industry" work placement. Also known as a "sandwich course," this work placement is a year in length and occurs during a student's second and final year.
Although short-term work placements are generally unpaid, students participating in a "year-in-industry" placement will receive compensation.
United Kingdom institutions to consider: Coventry University, Nottingham Trent University, and the University of Hertfordshire.

United States
International students in the United States have two options for gaining work experience while studying: Curricular Practical Training (CPT) and Optional Practical Training (OPT). Students must complete their first year before they are eligible for one of these programs.
Curricular Practical Training (CPT)
Curricular Practical Training (CPT) gives students the opportunity to participate in off-campus training, work experience, or an internship, as outlined in their degree program. For some degree programs, completing a CPT internship is a program requirement that students will need to fulfill before graduating.
Optional Practical Training (OPT)
Optional Practical Training (OPT) allows students to find off-campus employment or an internship within their field of study. Students enrolled in a science, technology, engineering, and mathematics (STEM) program can also take advantage of an OPT extension. International students interested in participating in OPT will need to apply for an additional visa.
There are two types of OPT available to students:
Pre-Completion OPT allows students to gain experience in their field of study before graduating and entering the workforce. Students can work up to 20-hours per week while studying, and up to 40-hours per week when on a break, such as during summer vacation.
Post-Completion OPT allows students to work at a job within their field of study for up to 12 months after graduating.