The QS International Student Survey (ISS) is the world's largest pre-enrollment survey of international students. The 2020 edition surveyed more than 78,000 students at 93 universities from 16 countries around the world. It's full of information on what students are thinking and feeling as they embark on their study abroad journey.
While the survey was largely conducted before the full effects of the COVID-19 pandemic took hold, it provides a valuable baseline for student expectations as we move toward a post-pandemic future.
Key Insights at a Glance School websites remain the primary resource students use when researching where to study abroad. Students are increasingly looking to connect with current international students to ask questions and get a feel for the student experience. Video use among students continues to rise, making video a key opportunity for institutions to tell engaging stories. The number one thing students are looking for from a destination country is that it provides a welcoming environment for international students.
For today's ApplyInsights, I'll be looking at how students make decisions about where to study abroad and how best to reach them. I'll share some key findings from the ISS and other research I've seen, along with my own thoughts from speaking with ApplyBoard's many recruitment partners.
How Students Consume Information on Education
According to the ISS, the most popular source of information for students when researching an institution abroad is the school's website. More than three-quarters (76%) of international students listed school websites among their top five sources of information. General online searches (60%) and school rankings (46%) were a distant second and third.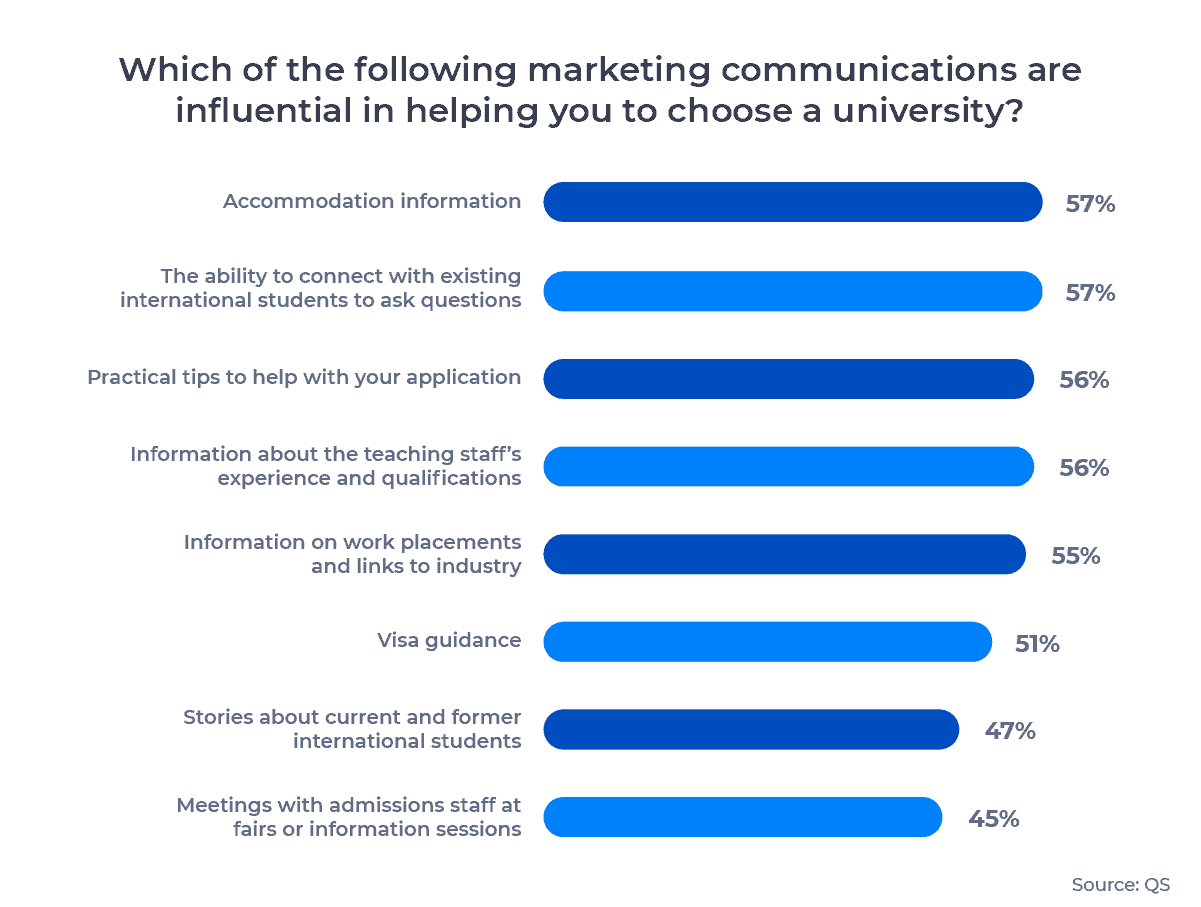 The ISS also asked international students what they are looking for when they research institutions. The chart below shows the top eight responses:Accommodation information is a top priority (57%). Students want a feel for where they would be living, how far they'd be from campus, and what their living space might look like. Students are also looking to learn more about the international student experience from students who are living it. Student stories and testimonials help (47%), but even more valuable is connecting with existing international students to ask questions (57%).
Current students are your institution's best ambassadors. Bring current international students on to your school's recruitment team to help prospective international students build personal connections with your institution that make them more likely to commit.
Information on work placements and links to industry are also critical (55%). This is a concern I've been hearing more and more throughout the pandemic. Students are laser-focused on employability and work opportunities, especially during times of economic downturn. Demonstrating the close ties between your institution and the organizations you work with can assure prospective international students that your institution will support them as they look to begin their career.
More than anything, students want to know what to expect during what is a big transition for them and their families back home. Building transparency through strong communications channels from trusted sources is essential to helping students learn as much about your institution and your community as possible.
Social Media and Video Are Key
According to the ISS, four out of five prospective students will use social media when researching universities. However, social media use is heavily weighted towards the initial stages of the application process. Schools should tailor the content on their social media platforms accordingly.
Facebook remains the platform of choice, with two-thirds of prospective students (67%) saying they use it to research institutions abroad. But an additional 55% said they use YouTube, while 49% use Instagram. These results drive home the growing importance of visual content.
According to THE Journal, the percentage of young people aged 13 to 18 who watch online videos more than doubled between 2015 and 2019, from 34% to 69%. Separate research out of Northeastern University found an increasing shift from text to visual content in the way students in the United States consume news. Schools that aren't leveraging video to connect with students are missing a vital opportunity to speak the one language that young people are speaking across the globe.
How Students Choose Their Destination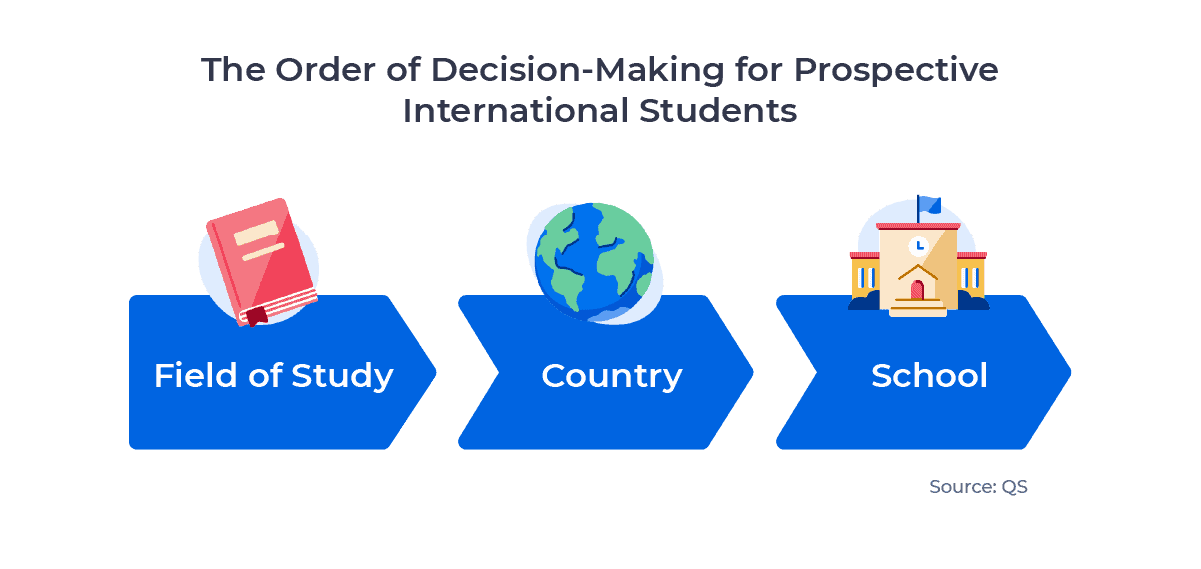 The ISS also looked at the order in which prospective international students make decisions about where and what to study. According to their findings, students first decide what field they want to study, then what country they want to study in, and finally what schools they want to apply to.More than anything else, when selecting a field of study, prospective international students are looking for a clearly defined career path. Mindful of the expense and commitment involved in studying abroad, these students are outcome-oriented from the beginning of their student journey. Identifying what their desired outcome is and ensuring your institution delivers on it is critical to attracting these students.
When it comes to deciding where to study, students emphasized three key factors:
The country and institution are welcoming to international students
The institution offers high-quality teaching
Studying there is affordable
When choosing a destination country, 57% of students said that it was important that their destination be safe and welcoming to international students. These concerns rose sharply during the Trump era in the US and may be a warning sign for Australia as international students grow increasingly frustrated with the country's border closures.
Additionally, 45% of students cited affordable tuition and 44% of students cited an affordable cost of living as key considerations when selecting a destination country. We can expect these concerns to increase as the world continues to grapple with the global economic crisis brought on by the pandemic. With that in mind, I'll be digging into tuition and cost of living data in future ApplyInsights articles, starting with the Canadian market.
Key Takeaways
As destination markets jockey for position post-pandemic, it will be critical for institutions to adopt marketing strategies that deliver international students the information they need in the manner they demand. Don't forget to:
Leverage current international students to share their experiences
Integrate video into your communications as much as possible
Emphasize work placement opportunities and ties to industry
Show that your school offers a safe and welcoming environment for international students